Jackie's top selling Romantic Suspense books
Scarred Series
If you would like to hear more about
my new releases, events and give-aways please Click Here .
Please click on any of the images to buy the books.
Available in both ebook and paperback format.
***
'Running Scarred' was inspired by a chance discovery one dusky evening, of a ruined Chateau hidden deep in a forest in Brittany. It was creepy but beautiful and was begging to be rescued. On further investigation I was told that it had once been the home of a rich and beautiful heiress whose family couldn't keep up with the expenses to keep it in good repair after her demise. It had been sold to the French community and turned into a special care hospital before falling into ruin and being abandoned by the commune.
The whole area was deeply romantic. The forest had encroached upon the once manicured gardens and the windows were hanging limply in their frames. I just had to include the place in one of my books but at that time was unsure how.
Not long after my discovery of the chateau, there was a very moving medal ceremony shown on television. Queen Elizabeth was awarding the highest medals of honour to our bravest and most heroic soldiers after their return from their tours of duty in Afghanistan. I was with a wheelchair bound friend and was watching the medal ceremony. One of our gallant heroes had thrown himself over a grenade to stop his comrades being killed and he had suffered the most terrible injuries, but he sat proudly in his wheelchair to receive his medal, looking so courageous and strong yet so frightened and scared as our tiny Queen pinned his medal to his chest.
The Queen spoke a few words to the courageous young man and my friend remarked, with a tear in her eye, "Well, at least there is going to be someone at the after medal party who he will be able to talk to." I asked her what she meant and was completely taken aback when she replied that sitting in a wheelchair was just awful. You were either ignored or only ever spoke to someone else's navel. She said that at least, with our Queen being so small, there would someone he could still look right in the eye while conversing! I was completely stunned by her words and they really made me think about the differences that the young man's selfless bravery had made to his life and about how more able people might view him and his disabilities.
'Running Scarred' was begun that same evening and the rest of the series has followed.
Running Scarred
Selected as one of the top 400 in both 2013 and 2014 ABNA Competitions
For three years retired soldier, Patrick Reeves has avoided his once comfortable world. Unable to accept his terrible injuries he moves to a secluded cottage in France and hides from everyone, most of all himself. But when a bright, beautiful woman buys the chateau and estate on which his home stands, it is more than his unerring control can bear. For her to flinch from his wounds would be terrible, but for her to pity him would be the final insult. His only option is to make sure she never sees him at all.
Ellen doesn't give a damn what Patrick looks like, one glimpse of his shaded figure, one touch of his work roughened hands, one hint of his masculine scent and she is his forever. She ends her engagement and follows her heart, buying the Chateau to fulfil a dream that has been her only wish since her brother was blown up in Afghanistan. If she can capture the elusive Patrick while attaining her goals, her world will be complete.
But Patrick is hiding from more than himself. Ellen is devastated when he abandons her for a flame haired beauty and when her ex-fiancé reappears, determined that he is surrendering neither Ellen or her fortune, she discovers that she is in danger of not only losing her lover but her life.
Running Scarred is a love story and an easy read, gently exploring the emotions stirred by disability caused by war. Suitable for young adults upwards.
To read the first chapter of Running Scarred, Please Click Here.
Scarred Beginnings. David's chance for love.
He had trained for it, been counselled about it, seen comrades affected by it, but even as he signed up he dismissed it. Nothing was going to happen to him or any of his friends, nothing what so ever. All his sister's worrying was ridiculous.
Nearly ten years into his service and he'd barely grazed a knuckle. His equipment was the best, his teams had his back, there was scarcely any danger at all.
And then it happened. His whole team caught up in it. Nothing could change those nightmarish few seconds that would so completely alter the rest of their lives. That it could have been a child that did it to them was almost as shocking as the event itself. He would never forget the look on the boy's face as long as he lived.
If he thought that surviving the incident was going to be a trial, enduring the aftermath was proving to be a different sort of challenge entirely.
(Book 2 in the Scarred Series. To be read after Running Scarred. (Short story, 43,500 words)
Please allow the author a little poetic licence. There are slight differences in the way David recounts his story to how Ellen remembers events.
Forever Scarred. Joe's heartwrenching story.
Working alongside his ex-veteran friends in the isolated French chateau where he doesn't have to explain how his face was destroyed, suits Joe perfectly. Barely able look at his own reflection let alone show himself to anyone else, the longer he can remain secluded from the outside world the better he likes it.

But Joe wants the same as any man, the same things his friends have found and when a party of salesmen descends upon the chateau for a team building course, Joe's resolve to keep out of the spotlight is put to its hardest test yet. The chief executive's beautiful secretary is exactly the woman he is looking for, but he knows that she is unlikely to spare him even a glance.

Her life is complicated enough and embarking on any liaison is the last thing on Lucy's mind but something about the huge ex-soldier has kept her heart pounding and her stomach fluttering from the moment she laid eyes on him. Joe's scarred face pales into insignificance as she finds his potent strength, his gentle sincerity and his genial mood far too beguiling.

Can Lucy escape from her blackmailing boss and take what her heart desires without leaving herself destitute? Will Joe rise above his own crushing insecurities long enough to rescue Lucy not only from her own fears but from her handsome but lecherous employer, or will his lack of self-esteem and long practiced avoidance tactics prevent him from opening his heart and him keep him Forever Scarred?
Scarred Horizon. Paul's fight for love and justice.
To be blind was bad enough; to question his sanity was a kick in the teeth; to give him a babysitter to monitor his every move was beyond his hard pressed endurance.

Kicked out of the army and queuing at the dreaded job centre, unable to even search for employment himself had been humiliating enough. Having to stand there and wait in line while listening to the vile terrorist who had murdered his team and had taken his sight, was more than Paul could take. The warlord had to die. It was a pity that the public didn't see it that way and a prevented a raging Paul from dishing out his own form of justice.

Convincing the assault trial judge to choose an option preferable to prison was going to be an even harder task to perform. Paul's former army mates are not going to let him be taken down without a fight but making a soft and fragrant minder a condition of his parole was a mortifying possibility that had never once crossed his mind.

Amy would do just about anything to see the big, handsome man sitting in the dock regain his pride but she hadn't reckoned on Paul's stubborn independence. Blind beyond reason, she just can't get through to the obstinate blockhead that she only has his best interests in mind. If her good intentions break her own fragile heart then that is something she will just have to conquer but a month of child-minding the uncooperative ex soldier is becoming even more difficult than her generous spirit can survive.

With evil about to enter the beautiful château in the French countryside, will Paul open his mind and expose his hidden emotions for long enough to see the beautiful light in his forever darkened world or will his and Amy's future perish under a viciously Scarred Horizon?
Scarred Survival. Gemma's battle with her own insecurities.
She's been a civilian for two years but only now does she realize that she's been 'one of the boys' for far too long. Her prosthetic arm isn't helping with her shattered self-esteem either. Things that never bothered her before are certainly bothering her now and that's even before the arrival of the temperamental new guest at the rehabilitation centre.

She's there to do a job and she's determined to succeed. She's a survivor, a fighter, certainly not a quitter, but even she can't understand the way her emotions ebb and flow as swiftly as the tides in the beautiful bay of Roscoff.

Aqua-eyed flight-god, Aaron Thomas is an angry man. His life has been pulled apart, turned upside down and now he's about to have his career ripped out from under his cockpit seat. He needs to concentrate on the truth, needs to make a plan, needs to get through the next few weeks without losing his mind or his job, but he hasn't reckoned on the delightful distraction of the stunning, dark-eyed beauty who greets him at the centre's door.

She's there to help these wonderful, brave men find their place in the world now that their injuries have thrown them from their intended course. When Aaron's being his most irritable, she is still determined to help him, but even he is surprised at the lengths to which she will go when he is confronted by an exceedingly suspicious Major Patrick Reeves VC for the first time.

Throw in a mixture of determined amputees, a wax wielding beautician, an over-abundance of silk dresses and several bowls of chocolate mousse and Gemma can see her life going rapidly downhill from here on in.

Will Gemma finally let down the walls that have guarded her heart for so long? Can Aaron face the truth even if it means that he will lose the only woman he's ever wanted to be with?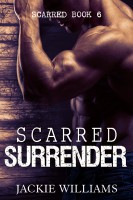 Scarred Surrender. James' story of courage and loyalty.
His disabilities had never held him back, but the constant pain consumed him and the nightmares never ceased. There was no remedy, no cure, and no hope. He had to live with it or allow it to defeat him and he wasn't the type to surrender so easily.
She had always been there, but being Adam's daughter put Crystal way out of James' reach. Although the use of her alternative therapies might do something no one had done before, to cure him meant to touch him and he knew that would be a battle too far.
No other man interested her. How could they when his gentleness captivated her and his courage and bravery enraptured her. Crystal wanted no other, but James' dedication and unexpected responsibilities, together with her new job, distanced them even further.
The tragedy that drew them together demanded more than his unyielding strength could bear. Reaching out to friends might assist him, but far from helping, going back to the Château in France only complicated their lives so much more.
Why now, amid vile accusations and murderous intentions, had he only just noticed her? His head told him to leave it alone, to put his desires aside, but his heart betrayed him. He wanted her with a passion that tested his fierce loyalty and steely control.
He didn't think he could live with her when he couldn't have her, let alone exist without her at all.
Scarred Surrender is a sensual military romance, gently exploring the emotions stirred by disability caused by war. Suitable for age 16+
Scarred Perceptions. Alex's fight for justice! OUT NOW!
A chance sighting started it. A mere bump and the slightest flicker of recognition, but there are some people so vile, so greedy, self-centred and egotistical, they are impossible to forget. Why was the man there? And what havoc was the slime about to unleash? Surely a little digging through some computer databases wouldn't go amiss.
The truth is almost too much to handle. Alex is already way too late. The damage has been going on for years. Will carry on if he doesn't do something about it. But who can he trust? Not the military. They are already ignoring his frantic calls, his terrifying emails. And now they have sent someone after him. They are on his tail, closing in fast, and he's out of time, out of luck, and out of options. Until he can get hold of vital evidence, he's on the run.
But how could he leave without seeing his friends one last time? It would be chancy. Though he trusts them with his life, he daren't let them know the truth. They wouldn't stand back and let things run their course. They would require action. Fast and furious. Lethal retribution. Immediately. But one wrong move would bring them all down, close the chateau, and finish the rehabilitation centre. Something that couldn't happen. Too many people needed them.
Perhaps if the person following him could be avoided, Alex would have time to complete his investigation. Time to collect enough proof to give them all some peace of mind. All he needs to do is find out who they are. Then shut them out and take them down.
With right on his side it should be easy. It's just a pity that their investigator has stalked a path straight into his heart.
Scarred Perceptions is an easy read romance suitable for anyone 16+ due to sensual scenes and typical army guy language. The book can be read as a standalone romance but the Scarred series is best read in order to appreciate the relationships between past characters and situations.
Time isn't always a healer, and being a hero doesn't mean that you are invincible. With waking nightmares and the darkest dreams, a simple scent or an unexpected sound can re-ignite the scars buried beneath a warrior's skin.
Steve had thought he was strong enough to fight it, would barely admit that he had it, but it wasn't getting any better. And now he had another problem to face. Not so much a problem but a distraction. A six foot plus, handsome as hell kind of distraction who has invaded his mind and captured his soul.
But his stubborn pride is about to come unravelled. Jules isn't someone he can ignore. A meeting is unavoidable. With bureaucracy closing down the château, Steve's friends need him. More than ever before.
Ten years earlier, Jules had simply wanted to put everything behind him, needed to forget the night that destroyed his life. Wounded, bitter, and angry, he had escaped to the château, all too happy to hide from his past.
He never regretted his decision. While braver men might have hung around to fight, running had brought him more than safety. He had regained his motivation, his ambition, his strength. And met the man who held his heart.
But with one tiny lapse of security, his past has caught up with him, is about to destroy him once again. And this time it is not merely threatening Jules, but the château, its occupants, and the hero who has changed his life!
Scarred Darkness (SCARRED Book 8) is an easy read M/M romantic mystery thriller gently exploring the effects of Post-Traumatic Stress Disorder in the aftermath of active service. It is suitable for anyone 16+
The book can be read as a standalone romance but the Scarred series is best enjoyed in order to appreciate the relationships between past characters, places, and situations.
To buy any of the Scarred Series, please click here or on any of the images.
Other books by Jackie Williams
Contemporary Romance (French Themes)
A Fallen Fortune Echo Beach Treasured Dreams
Historical Romance
Silence of Scandal A Murderous Masquerade A Gallant Gamble
Hidden Gems Romantic Mystery Series
Shorter Reads
The Garden of Eden/Just Between Two/A Deathly Disguise
Contemporary/New Adult Romance
A PerfectSummer Delicious Desires Silent Treatment Tinted Lenses
Jackie's Naughty Side
A Hole in One (The Front Nine)