Jackie's top selling Romantic Suspense books
Homepage
>
Contemporary/New Adult Romance
Contemporary/New Adult Romance
Please click on any of the images to buy the books.
Available in both ebook and paperback format.
If you would like to hear about my new releases, events or give-aways, please click here.
A Perfect Summer
Life has been hard for struggling twenty-nine year old Ava but she is willing to take on yet another dead end job, whatever it pays, just as long as she earns enough to not let her teenage sister down. So when a case of mistaken identity puts her in line for a fantastically well paid job, with an even more fabulous boss, Ava can barely believe her luck. Second chances rarely come her way and she's not going to let this one through her fingers without a fight.

But luck runs both ways and before she has barely begun her new life an agonizingly dark secret that she has kept hidden for nearly fifteen years, becomes a living nightmare for her and those around her.

Can the gorgeous Will Adams protect his newest member of staff from a past that threatens to destroy her while continuing to look after his own teenage son and his incredibly successful music business? For years Ava has looked after herself and her sister, sacrificing her education and her dreams and she's determined that neither her wonderful new boss nor his son will be put in any danger. But when Ava's life is threatened Will realizes that his heart is no longer his own. He will do everything in his power, whatever the cost to himself or his multi-million pound business, to keep the woman he has learned to love safe.

Can Will overcome Ava's violent past, win her trust and her heart even while her life is on the line?

This is an "Easy Read" Romantic thriller, essentially serious but light-hearted in places and suitable for young adults upwards. (Contains mild bad language)
To Buy A Perfect Summer on amazon please Click Here or on the cover image.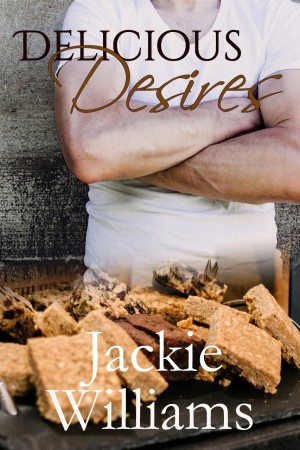 Delicious Desires
She is going to lose everything! Yes, it is her own fault. Perhaps she should have listened to the rumours or read the fine print more closely. But she hadn't and she didn't, and now she has a fight on her hands. Caroline is not about to let any arrogant architect drown her delightful waterfront cake shop in a sea of new construction work. She'll fight the site owners every step of the way.
Adam has reached the pinnacle of his building career, and no insignificant little cake shop is going to persuade him from his agenda now, however delicious the fare.
But he had reckoned without the temptation of the bakery's stunning owner. Not only is she beautiful but she is talented too. A heady mixture for anyone to ignore, least of all him. One sugared kiss later and he will sacrifice anything for her.
Caroline knows she shouldn't fall for the one man she cannot have. Adam's live-in lover and lifestyle are things he is not prepared to give up for anyone. Certainly not for her. But some men are more enticing than a warm chocolate brownie on a chilly Spring day... If only the pain of his betrayal was as easy to swallow.
Life changing decisions are never easy to make, but he has left it too late. Caroline has a new man. Adam only has himself to blame, but the agony of losing her is something he never dreamed could hurt so much. Though perhaps not as painful as discovering that her life is in danger, and that if he doesn't move fast, she might soon be dead.
Will he be in time to save her? Can he rise above the tide of bitterness festering inside him and decide to shove all thoughts of jealousy and anger from his head?
There is no decision to make. He doesn't care if she has another lover. He would rather die with her than live a single day more without her!
Delicious Desires is an easy read romance, suitable for anyone 16 yrs old and above. (Sensual scenes and some adult language)
To buy Delicious Desires from amazon, please Click Here or on the cover image.
Silent Treatment
Now available on amazon
Being asked to wait for three years by the love of your life should be easy, but if you haven't been asked then what do you do?

Even while still at high school Carrie has begun a brilliant and exciting dancing career, but along with petty bullying and outright abuse from jealous friends, as well as another two years of college studies, her bright future means an impossibly long separation from the only man she will ever love.

Eighteen year old Daniel has walked to school with Carrie for as long as he can remember, but now he is living the dream after winning a sports scholarship in America. He will be gone for three long years. With his home life in tatters he assumed leaving everything behind would be easy but he suddenly realizes that it's going to be far more difficult than he thought.

With Carrie dancing her way around Europe for a leading pop star and Daniel taking the American football league by storm, their lives appear so far apart that ever being together again seems unlikely.

Add in the objections and prejudices of Carrie's over protective father, the outright flirting of a variety of fabulously attractive models and Daniel giving Carrie the silent treatment, their relationship has ground to a halt before it even had time to begin.

Will Carrie wait the three years for Daniel to come home, even though he has given no indication that they will ever be more than friends, or will the attractions of bright lights, money and fame be too hard for both of them to resist?

Perhaps it would have helped their relationship if they had plucked up the courage to tell one another how they felt in the first place.
This is a light romance and an easy read suitable for teenagers and all of us who are still young at heart.
To buy Silent Treatment on amazon please Click Here or on the cover image.
Tinted Lenses
Jack Conner is about to make his first big money doing the job he loves. The photography shoot of a fabulously wealthy prince's wedding is going to earn him a fortune, but he reckons without the airline flying him to the ceremony in Brazil going bust. His only hope to keep the deal on track is to hire a private jet.

A feisty but beautiful female passenger, a dodgy drug dealing pilot and two thousand miles of snake infested Amazon Rainforest later, and Jack is beginning to regret ever agreeing to take pictures of the Royal nuptials.

Anne Parsons is hoping that a round the world hiking trip will help her recover from the death of the love of her life.

Marriage to a love sick billionaire, an ill fated flight with an uncouth giant, and an unscheduled stopover in an mosquito ridden jungle, were not quite what she had in mind to lift the black depression that fills her days.

Can Jack turn disaster into triumph and arrive at the wedding on time to earn himself fame and fortune or will his unexpectedly alluring travel companion be enough to convince him that the assignment is really not worth the money or the heartache?

Will Anne be strong enough to stick to the ill conceived bargain she has made for a Billionaire's dollars or will resisting Jack's many hidden charms be too much for her to handle as they fight for survival on their journey through Equatorial Brazil?
This is an easy read romantic adventure suitable for young adults upwards.
To buy Tinted Lenses on amazon please Click Here or on the cover image.
Other books by Jackie Williams
Regency Romance
Silence of Scandal A Murderous Masquerade A Gallant Gamble
Military Romance (Scarred Series)
Running Scarred Scarred Beginnings Forever Scarred Scarred Horizon Scarred Survival
Hidden Gems Romantic Mystery Series
Contemporary Romance (French themes)
A Fallen Fortune Echo Beach Treasured Dreams
Shorter Reads
The Garden of Eden/Just Between Two/A Deathly Disguise
Jackie's Naughty Side